Before I even start this review, I feel as though I owe an apology to Sarah Clarkson, the author of
Journeys of Faithfulness
. You see, I have been dreading writing this review, because I did not enjoy the book. It's difficult to write a negative review, especially when it is a Christian book intended to provide guidance, hope, and encouragement to young women.
It could be completely a matter of personal preference
(and I am quite certain it is), so I would ask that you click on the link at the bottom of this post and read other reviews of this book before making your own judgment about whether or not to read it.

Apologia Educational Ministries, Inc.
provided us with the opportunity to read and review
Journeys of Faithfulness
by Sarah Clarkson.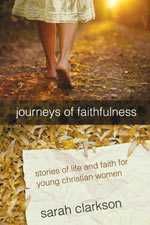 "In Journeys of Faithfulness, author Sarah Clarkson explores [the] paths of faith [of Ruth, Esther, Mary and Martha, and Mary, the mother of Jesus] while challenging today's young woman to reach higher and go deeper in her relationship with Jesus Christ by choosing well and staying the course in her walk with God."
~ from the back jacket of the book.
In all fairness, I do believe Ms. Clarkson did what she set out to do ... she did explore and she did challenge. The book was divided into four parts devoted to each of the women or pair of women stated above with three chapters in each part. Each chapter began with a fictional depiction of a biblical story involving the woman/women. Then Ms. Clarkson shared a personal devotion regarding the story. The third part included some Bible study questions, and then the chapter concluded with a place for journaling. It contained all of the elements for either a group Bible study or a personal study.
The stories devoted to each of the four women, or group of women, were written in a historical fiction kind of way. The stories from the scriptures were included, but just embellished with additional facts and dialogues. I don't enjoy reading paraphrasing of biblical stories. For me, it causes the story to lose it's credibility. I can remember reading a book a few years ago that was all the rage in the Christian circles. My husband LOVED it! All my friends LOVED it! And, I immensely disliked it. Nobody could understand how I could feel that way, and I wasn't even sure I could explain why I did. I could see why so many loved it. It just wasn't for me. All I can say is that when I read a biblical story, I just want to read it from the Bible with no additions or deletions. Like I said ... personal preference.
Knowing I was not "getting into" the book, I tried to read it as though I were my 18 year old daughter, looking at it from the perspective of "today's young woman" (because clearly I am not in that category). I found the wording of the stories a bit confusing at times and the vocabulary tangled, and I often thought that my daughter would not have followed the stories very well by getting lost in the words.
The devotionals did not particularly draw me in, and I didn't feel that they would be very relatable to my particular daughter, either. However, my history with reading devotionals reminds me that a devotional that does not move me now might speak something completely different to me at another time. Perhaps I am just not in the target audience for the devotionals.
The Bible study questions did seem really good, adequate for group discussion and reflective for personal study. And, I really appreciate having journaling pages provided for me in a study, because sometimes there are just random thoughts or scriptures that come to mind that I am jamming into a margin somewhere.
This all being said, it is a beautiful book with lovely typeface and structure. And, I know that Apologia backs quality work. That is why I, again, encourage you to read other reviews on this book at the
Schoolhouse Review website
before making a judgment about this book.
Journeys to Faithfulness
can be purchased from
Apologia
for $13.00. It is intended for young women ages 12 and older.
{Disclaimer: I received a free copy of this product through the Schoolhouse Review Crew in exchange for my honest review. I was not required to write a positive review, nor was I compensated in any other way. All opinions I have expressed are my own or those of my family. I am disclosing this in accordance with the FTC Regulations.}