Is your child determined, influencing, conscientious, steadfast, or a combination of a couple of those? How do you know? And, if you do know, what can you do with that information to help your child grow to his or her full potential?
PeopleKeys
can help. We had an opportunity to review
"The Children's Profile"
from
PeopleKeys
.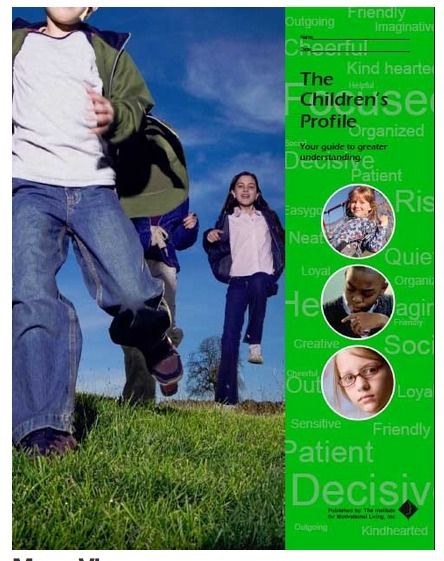 "This profile was developed for children ages 9-13 to introduce them to the concept of personality using the theory of DISC Personality Style (DISC). Written in simple language, this profile was designed to help young people understand who they are and why they, and others, think and act the way they do."
We received
The Children's Profile
and immediately got to work. The profile had the children complete statements, such as: "I like to ...", "When upset, I ...", and "When I want something, I ..." They put an "x" on the answer they thought best described them, with each answer falling in a column under the letters D, I, S, or C. After the were done, we looked at "Your Personality Style Graph" and counted the total number of D, I, S, and C answers. The most answers told us if the kids' personalities were Determined, Influencing, Conscientious, or Steadfast.
Eli's scores showed that he is Influencing and Steadfast. Brynne's scores showed that she is Conscientious.
What do you do with this information when you get it?
The Children's Profile
doesn't just leave you with the results. It gives you detailed information for each personality type, telling you what they are bothered by, motivated by, and controlled by. It lists how a child with that personality type acts with people and at school. It explains what a parent needs to do to help that child grow and how the parents and child can grow together. The Profile goes even further to detail how a child with each personality trait communicates with adults with all four of the personality traits. (Therefore, it's pretty important for each parent to take the profile, too.) Finally, the Profile gives tips for interacting with a child with each personality trait.
The Children's Profile
was very interesting and insightful. There were some things I knew, but many others I did not. I can see how applying this information will be helpful in helping the children with their relationships, in their schoolwork, and in every aspect of their lives.
The hardest part for me was letting the kids answer their own questions. I found myself wanting to say, "I think you are like
this
." But the key was to allow them to answer the questions as they saw themselves, so that we could understand them better, not who we thought they were.
The Children's Profile
can be
purchased from PeopleKeys for $15.00
and it comes in a magazine-style paperback book. It is very user friendly and the information is worth more than money can buy.
PeopleKeys
has many other products available such as the DISC Career Style Report (online), the StudentKeys Student Binder, and the Perpetual Learning Style Workbook. The other members of the Schoolhouse Review Crew reviewed many of their products, so
be sure to read what they thought of them.

***************************