I had never heard of
Barbour Publishing
until recently. The company began as a bargain overstock seller and has grown into a major publisher and seller of Christian work, with it's first published work being
Pilgrim's Progress
in 1984. They now have thousands of titles from which to choose.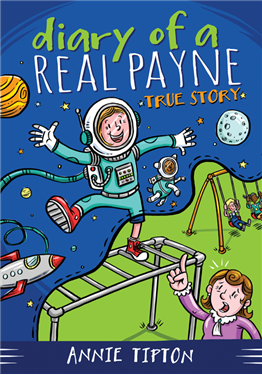 We were given the opportunity to review a new book published by
Barbour Publishing
called
Diary of a Real Payne Book 1: True Story
written by Annie Tipton. I decided to preview it before either of the kids started reading it and made it through two chapters before Brynne (age 8) swiped it away. She has read it every day since she started and finished it this week. The colorful and animated jacket cover drew her in. I read several chapters of the book, enough to get a good feel for the book. But Brynne was the real reviewer. As it's next-to-impossible for an 8 year old to write a proper review, I had her prepare a book report for me to use in this review.
The
Diary of a Real Payne
series is about Ellen Jean (E.J.) Payne. She is a 10 year old girl who is encouraged by her mom to start a diary as a way to channel her creative side that routinely has her phasing out in an adventurous daydream. She lives with her dad who is a pastor, her mom who is an elementary school teacher, her younger brother Isaac, and her dog Bert. Her best friend is Macy. She is dying to get out of Spooner, Wisconsin, to find
real
adventure.
Each chapter starts with E.J.'s diary entry. Then the story continues. Throughout each chapter, E.J. drifts into a daydream that gets her into some crazy predicaments.
There were several things I enjoyed about the parts of the story I read:
The diary entries are packed full of humor and realness. E.J. is a precocious little girl, but so honest and fun.
Although this is written with a Christian worldview (her father is a pastor, they go to family camp and have a Christmas play at church, they talk about God and they regularly talk about His plan for E.J.'s life), it's not all in-your-face. Brynne really didn't mention the Christian aspect of the story, except to tell me that they were talking about Esther from the Bible while being at their neighbor's house, so I liked that it was speaking to her from a Christian standpoint and she didn't even realize it.
I loved E.J.'s mother, Tabby. There was just something about the way she encouraged E.J. in her imagination, but helped to direct her toward the path that God had for her life. It was just beautifully done. Tabby is someone I would want as my friend.
What did Brynne think of the book? Here is her recommendation:
I think you should read it because it's really good. It's boring at the beginning but it's a hit when you get used to it, so read it. I liked where they go, liked the places. I didn't like E.J.'s daydreams because they were not very exciting to me. But I did like the people in the book. Dad was a fun dad, like when he was on the dunking booth. Mom let E.J. do a real circus. Isaac was annoying. And Macy was a good friend. I would recommend this book. I want to read the second book when it comes out because I liked the first book.
Diary of a Real Payne Book 1: True Story
is recommended for children ages 8-12 and is a paperback book with 188 pages. The purchase price of the book is $4.49 and can be purchased from
Barbour Publishing
. I see on the website that they are now offering 25% off all orders with $5 standard shipping.
Brynne just recently turned 8 and is a good reader. She easily read the book without any assistance. She enjoyed the illustrations and, I believe, any child up through age 12 would, too.
Bottom line:
Brynne and I would both recommend
Diary of a Real Payne Book 1: True Story
. The second book in the series,
Diary of a Real Payne: Church Camp Chaos
will be released in March of 2014. It will definitely be on our list to purchase.
Read other reviews on
Diary of a Real Payne Book 1: True Story
by going to the
Schoolhouse Review Crew blog
.

***************************