Don't you just love Peter Rabbit? I do. Some of my favorite moments are when Mr. McGregor is chasing Peter out of his cabbage garden. What a little stinker he was, always disobeying Mother Rabbit and causing trouble for his sweet sisters Flopsy, Mopsy, and Cotton-Tail.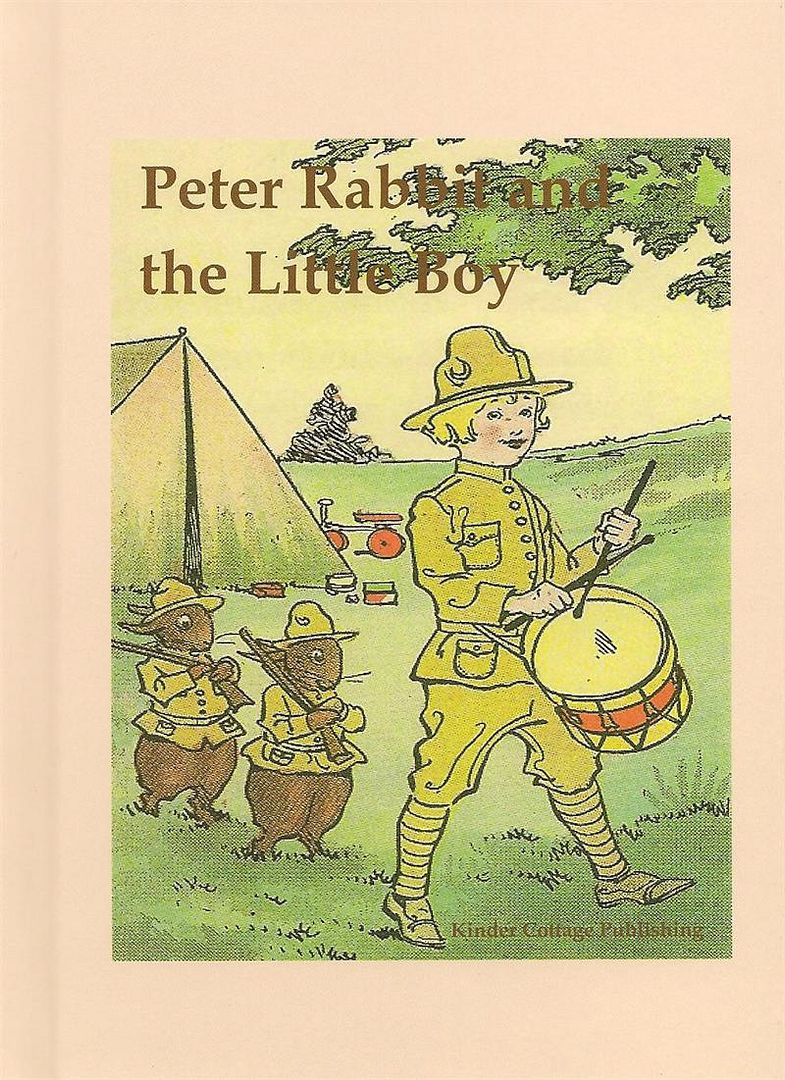 The kids and I had the pleasure of reviewing
Peter Rabbit Goes A-Visiting
and
Peter Rabbit and the Little Boy
published by
Kinder Cottage Publishing
.
What a beautiful collection of books for the Peter Rabbit lovers in your life.
I remember reading the stories of Peter Rabbit when I was a kid and absolutely loving them. Peter is one of those timeless characters that follows you through your life from childhood to adulthood. Near Kansas City, Missouri, there is an attraction called Powell Gardens. They have a magnificent farm for viewing called Fun Foods Farm where they grow every imaginable vegetable. It is so beautiful! They actually have a Peter Rabbit portion of the gardens where you walk along a trail reading portions of Peter Rabbit stories while observing the parts of the garden, even the tool shed and Mr. McGregor's garden. That was the first time I had shared my love of Peter Rabbit with my kids. In reading the Kinder Cottage Publishing books, they were able to connect that field trip with their growing love of Peter Rabbit.
For the purposes of this review we received two beautiful hardback books. Each book was about 60 pages long and had the most amazing and timeless illustrations. Kinder Cottage Publishing took the original works from the Henry Altemus Company and adapted with language more suited for today's children. Although there were some adjustments to the text, the quality of the stories remained the same.
Peter Rabbit Goes a Visiting
. Peter's little sister has a bad tooth ache and Mother Rabbit sends him to get some medicine. He runs into his cousin along the way who convinces him to go visiting some of his friends before ending the day at a party. Peter, being one who can't resist some adventure, tags along but by the end of the day is feeling bad about his decision. He returns home to find that, this time, Mother Rabbit isn't even angry because she knows that "boys will be boys".
Peter Rabbit and the Little Boy
. Once again Peter disobeys Mother Rabbit when she tells him not to go past the hill when flying his kite. He runs into his cousin (those two are always getting into trouble) and they take off on an adventure. They meet up with a hungry hawk and the dreadful Scissors Man before they finally run into a little boy. They spend the day playing with the little boy who offers to have his grandfather drive them home. And wouldn't you know it … his grandpa is Mr. McGregor! This time Mother Rabbit is very upset as she explains to all the bunnies that "I hope he has indeed learned at last that even little bunnies are happier when they obey their mothers, and I hope he understands that mothers are thinking of such things as Mr. Hawk and the Scissors Man when they warn their children not to wander far from home."
Eli and Brynne each read one of these books. They thought they were funny and sweet. But I don't think they really understood what classics they were holding. I fully understand and will be holding onto these books to read to my grand babies some day.
There are several titles in this series:
Tale of Peter Rabbit
Peter Rabbit at the Farm
Peter Rabbit's Christmas
How Peter Rabbit Went to Sea
Peter Rabbit Goes A-Visiting
Peter Rabbit's Easter
Peter Rabbit's Birthday
When Peter Rabbit Went to School
Peter Rabbit and the Little Boy
Peter Rabbit and Jack the Jumper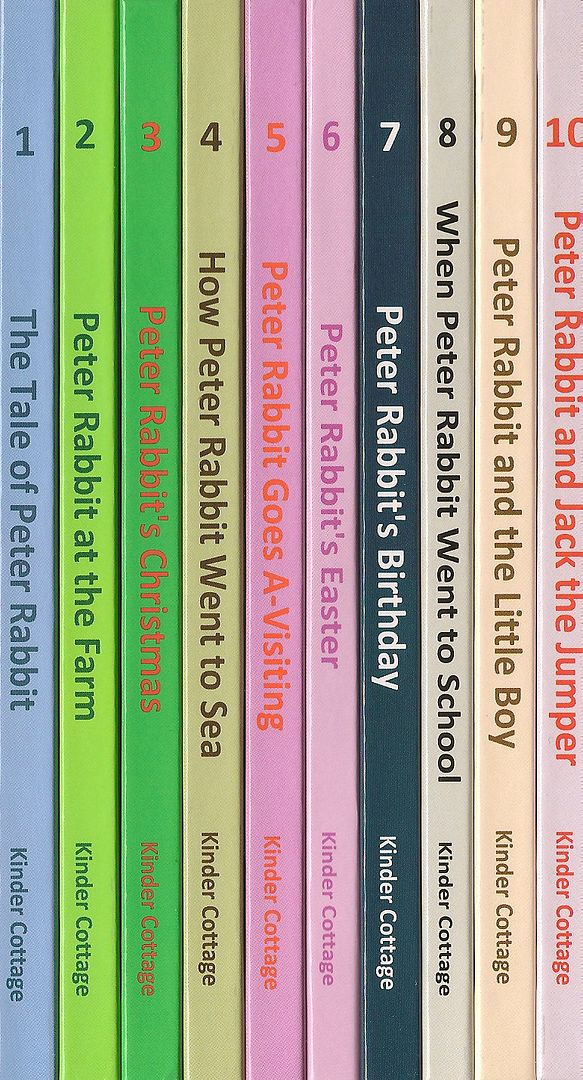 Each book can be purchased at the
Kinder Cottage Publishing
website for only $4 each, or $30 for the whole set. The books are intended for children ages 3-9, but children of all ages, and adults, too, will certainly enjoy them.
The rest of the books in the series were reviewed by my fellow Crew members. You can go to the
Schoolhouse Review Crew
blog to read those reviews.