We recently had the opportunity to review
My First Report: Middle United States
from
Hewitt Homeschooling
. There were 10 different topics from which to choose and we chose Middle United States because we live in Missouri and this school year we will be studying the Little House on the Prairie books so we wanted to learn and write reports on Minnesota, Wisconsin and Kansas. My First Reports are intended for grades 1-4.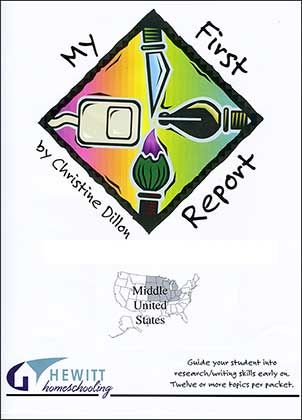 What We Received
We received the product in a paperback format, without hard cover, that is designed to be punched and placed into a binder. In order to do the research on the states, we were required to obtain our own books and/or videos from the library and to have internet access. We own a video series on all of the states, a former curriculum based on all of the states of the United States, and we checked out various books from the library.
How We Used the Product
We followed the same process on all four state reports we wrote. I will take you through how we wrote our report on Missouri.
At the beginning of the instructions for Missouri, there were several questions for the kids to answer about Missouri. They pulled out the books we checked out from the library and tried to answer as many questions as possible. Then we watched our video and reviewed our formerly used curriculum. Finally, if we did not have all of the questions answered, we sat together and searched for each of the answers on the internet.
As we have written reports before, we followed our usual format. I had each of the kids write an introductory sentence about Missouri. Then they wrote three factual sentences from what they learned in their research. Finally, they wrote a concluding sentence. They did this in rough draft, or in what we call the "sloppy copy". We edited their work together, enhancing their work with adjectives and adding proper punctuation. I let each of the kids choose which report form they wanted to use (from the materials provided by Hewitt Homeschooling). The kids then wrote a final revision in cursive handwriting.
Our Opinion
I had high hopes for this product in that I was hoping it would teach us an alternate and simple way to write a reports, in such a way that interested the kids because reports tend to be kind of boring to write. However, I felt that it was lacking in actually teaching how to write reports. It did a good job in providing questions to research, but there wasn't any good step-by-step instructions about how to write the report.
My First Report did help to guide us along in learning more about the states we were researching. The kids would have felt a little overwhelmed if I would have just said, "Here are some books and videos and the internet. Research this state and write a report on it." So, from a research-aid perspective, I think it was very useful.
Product Details
My First Report: Middle United States
can be purchased at Hewitt Homeschooling for $8.95. The other topics available are Eastern United States, Wild Animals: Small Mammals, Southern United States, Bugs and Worms, Reptiles and Amphibians, Western United States, Sports, Outdoor Activities, and My State.
You can read other reviews on My First Report: Middle United States or on the other topics listed above, as well as various other Hewitt Homeschooling products by going to the
Schoolhouse Review Crew blog
.