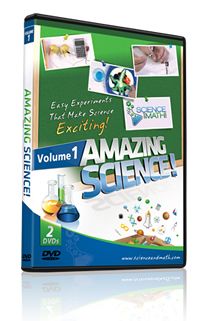 When we received the
Amazing Science! Volume 1
dvd, I was very excited! I have some budding scientists in my home, and I knew they would love them. I also knew that I would love having some guidance in this area that is not my passion. Little did I know how great the dvd series would be!
Volume 1
contains two dvds. The first experiment we chose was
Experiment 13 - Floating Eggs
. I just wanted to get a feel for the dvds and to gauge my children's response to watching the videos.
My first observation was that the video was short, concise, informative, clear, and had a "wow" factor!
The experiment is introduced and a materials list is provided. The materials were simple and were items we already had at home. Then Jason Gibson (the scientist behind the series) proceeded to conduct the experiment.
It was easy to follow and fun to watch.
And something happened that doesn't normally happen here:
The experiment actually worked!
(That is usually a major problem with our experiments at home.)
Both of the kids were very vocally excited about what happened in the experiment.
Then Mr. Gibson proceeded to give a scientific explanation as to what happened in the experiment.
This was where I had a negative observation. To me, he seemed a little dry and technical in his explanations.
I felt like he was losing the kids pretty quickly. I remember thinking, "This might be better if he had some drawings, or graphics, or animation to go along with the explanation." At least it would have been for my kids who are ages 6 and 8.
All-in-all, however, both kids said they really liked watching it.
A week later we decided to approach the series a bit differently. I watched
Experiment 16 - Balloon in a Candle Flame
before I gathered the kids together. I saw precisely how the experiment worked (it was SO easy to follow), gathered my materials (that were ALL things I had on hand at home), and brought the kiddos in. I conducted the experiment for them before they watched the video.
I told the kids that I was going to hold the blown-up balloon over the candle, and had them hypothesize what would happen. They were wrong. When the first balloon exploded (like it was supposed to do), my kids squealed with excitement! They were thrilled! They saw that the air from the balloon exploding had actually blown out the candle. Then we filled the second balloon with a few teaspoons of water and conducted the experiment a second time. Again, they hypothesized (and, again, they were wrong). This time they anxiously waited for the balloon to explode, but it didn't. Then I even put the balloon down over the top of the candle, extinguishing the flame, without exploding the balloon.
They were astonished! (And I was astonished because the experiment actually worked just like Mr. Gibson said it would!)
After we finished our experiment, I put on the dvd and they watched the experiment conducted by Mr. Gibson.
It was great to hear them talking about what was coming next.
But then it happened.
The scientific explanation began. At first they were intensely listening. And then I noticed them both looking away. He had pretty much lost their interest.
When the video was over, I summarized what they had just learned. And, they even understood the basic scientific principle they had been taught (in this case, heat conduction).
I asked them if they liked the videos. They responded with a resounding, "Yes!"
One said, "It was so cool when the balloon exploded and blew out the candle!"
Then I asked if there was anything about it that they didn't like.
They said the part where he talked was "kind of boring." Brynne confirmed what I had thought while watching the first video. She said, "I wish he would show us some pictures or something or show videos of it."
It's possible that they are just too young for his explanations. Or they might just be more visual learners. But, maybe it
would have
had more of a FUN factor with some animation or something to go along with it.
The only other negative I had was that I wish the dvd would have come with a booklet with a WRITTEN list of the experiments and the materials needed.
That way, it would have been a little easier to decide which one we could do, without having to watch the video first.
Will we use this dvd series again? ABSOLUTELY!
In fact, I plan for us to use every single experiment in the next year or so. My husband will also enjoy doing these with the kids.
Some other experiments that immediately caught my eye were: Color Changing Milk, Build a Lemon Battery, Unburnable Money, Matchstick Speedboat, Reversing an Image with Water, Keeping Paper Dry Under Water, and Simple Lava Lamp.

If you would like to purchase this series, it is offered at
scienceandmath.com
for the price of $19.95. There is also a downloadable version for $17.95. It is something you will be very glad to have in your library of resources.
You can go see what the other Crew Reviewers thought about the dvd series by going
here
.
{Disclaimer: As a member of The Old Schoolhouse Homeschool Crew, I was provided this product free in exchange for my honest review. All thoughts and opinions are my own.}