Hola. Yo me llamo la maestra Nicole. ?Como te llamas?
These are just some of the phrases we are now able to put together thanks to
Classical Academic Press'
wonderful product
Song School Spanish
. My kids have been wanting to learn Spanish so the opportunity to review this product came at the perfect time.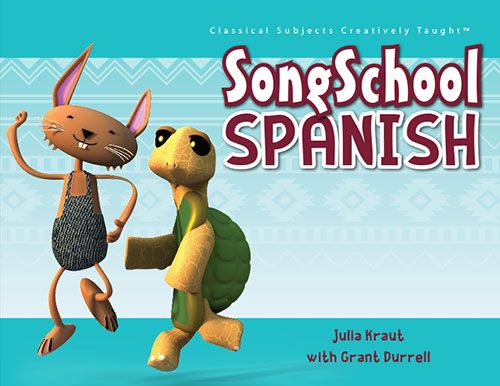 The review products we received included the paperback
Teacher's Edition
and
Student Text
, as well as a CD adhered to the back jacket of the Student Text containing 42 catchy songs and chants that are a capstone of the lessons.
Song School Spanish
is intended to be an introductory Spanish course for children grades K-3 and includes vocabulary, handwriting, games and activities. Completing the 31 lessons prepares the student for Classical Academic Press' product,
Spanish for Children
.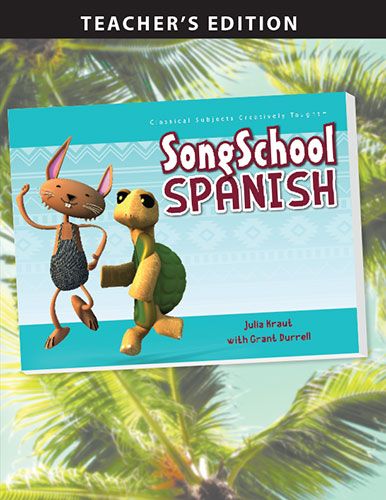 How We Used the Curriculum
Including the short daily lessons of
Song School Spanish
into our day was an easy transition. The text has a recommended schedule, and we chose to follow the three-day plan:
We completed one lesson per week.
On the first day we listened to the songs included in that Lesson.
On the second day we listened to the songs again and completed all workbook pages for that Lesson (excluding the "Show What You Know" section).
On the third day we took the "Show What You Know" test and showed that we had mastered the songs. We also completed the extra activity pages that are at the back of the Teacher's Edition. Those activities were fun and gave a little more depth to the lessons.
There were some other days that we just listened to all the songs that we had learned so far.
In our review period we were able to complete five full weeks of lessons, so I feel like we got a really good feel for the product. This product can also be used in a group setting, completing all of the activities from one lesson in one class period.
My Opinion
The things I liked about the product were:
The text is very kid-friendly and easy to follow.
The lessons are short and engaging.
I did not have to know a lick of Spanish to facilitate the use of this product. Good thing, too, because the only phrase I remember from the one quarter I stayed in high school Spanish before I dropped it was, "?Te gusta el voleibol?" That means, "Do you like to play volleyball?" That was one of the first things we learned. When in the world would you ever use that phrase? Let me tell you a funny story ... about five years ago my daughter and I were driving to the Y. There was a Spanish speaking gentleman on a bike riding toward the Y. On our way back home, we saw him playing sand volleyball with a group of people. I told my daughter, "Dang! I missed my only shot in life to use the only Spanish phrase I know!" True story. Sorry, I digress.
In a short five weeks my kids have learned several words and phrases they might actually use in life!
This program sparked a greater interest in my kids to continue learning Spanish.
The songs are catchy and we do catch ourselves singing them sometimes. (I think that's the point of them!) You can hear a sample of the songs by going HERE to the Samples section.
The things I found as negatives with the product were:
I think my kids (ages 9 and an advanced 7 year old -- both 3rd grade) might be at the top range of the age limit for the product. Even though they do not know Spanish, it seemed a little easy for them.
My son said several times, "I want to learn how to speak Spanish, not sing it." I think what he meant was that he would have preferred some interactive activities where they could practice speaking Spanish as part of the curriculum. Perhaps a separate CD with some kind of verbal lessons would have been nice.
Overall I do recommend this program for your early primary aged children, especially if they have an interest in learning the Spanish language. It's fun and not stressful, and I feel as though my children have already learned a lot of practical Spanish words and phrases.
Product Details
To see what other Crew members thought of this product and other products offered by Classical Academic Press, go to the
Schoolhouse Review Crew blog
.

Disclaimer
I received a free copy of this product through the Schoolhouse Review Crew in exchange for my honest review. I was not required to write a positive review, nor was I compensated in any other way. All opinions I have expressed are my own or those of my family. I am disclosing this in accordance with the FTC Regulations.