Art. It's that one subject that always gets cut out when time gets short. But, it's that one subject that I always say is going to be a priority in our schooling. Why does it get pushed aside? Usually it's because it takes work on my part to come up with a project, put everything together, and instruct how to do the project. And by the end of the week I am just all tapped out. Enter
ARTistic Pursuits
.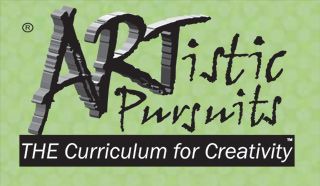 The kids and I had an opportunity to review
Early Elementary K-3 Book One: An Introduction to the Visual Arts,
newly expanded and revised 3rd Edition. We were able to complete four lessons in the time period allowed. We received a spiral, soft-bound book containing all lessons, supply lists for each lesson (contained in the front of the book), and instructions for 36 lessons. The book also included many master works. This particular book of lessons is intended for children in grades K-3 (ages 5 and up). My children, who participated in the review and completed the lessons, are age 9 and 7.
Specific supplies must be utilized and purchased, if not already in the home. They can be
purchased from the ARTistic Pursuits website
, or from a company called
Blick
(recommended by
ARTistic Pursuits
), or purchased independently. We received the full list of supplies and then just purchased them from a couple of different art supply and craft stores in our area. There were a couple of times that we veered from the recommended brand of art supply, but I do not believe that it affected our ability to complete the lessons.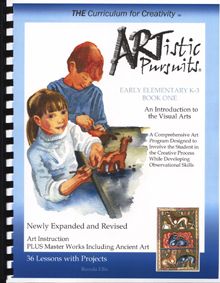 This particular edition is divided into three sections:
What Artists Do, What Artists See, and Where We Find Art
.
What Artists Do: this section's "activities broaden the child's awareness of the world he or she lives in. The child explores drawing and painting ..."
What Artists See: "The child explores collage, paper works, drawing and color mixing."
Where We Find Art: this section "looks at art in caves, pyramids, cathedrals ... [and] uses ... chalk pastels, oil pastels, clay, and paper works."
ARTistic Pursuits' Philosophy About Teaching Art (from their website):
The Artistic Pursuits program presents both the expressive and the technical aspects of art in an age-appropriate manner. Children are curious and expressive from the start. We work with those interests to teach them to observe more closely. Skills develop as each child observes nature and enjoys the process of creating.
How This is Done
Each lessons starts with a brief introduction to the concept being taught in that lesson.
The next section is called "Look at ...." which provides a piece of master art that coincides with that particular lesson and gives questions for brief discussion.
Then finally the project is introduced by written instructions and illustrations, and contains the specific materials list for that project.
There is finally a "Student Gallery" box that contains an example of a real-life child's finished project.
How We Used the Curriculum
As we typically do designated "art" once per week, usually on Fridays, we included it in our regular Friday subject rotation, usually in the afternoons.
I got out all the supplies. We read the introduction and discussed the master art provided in the "Look at ... " lesson. Then after a brief set of instructions, I allowed the kids to create their pieces of art.
Basically, I just got out the supplies and followed the instructions, then let the kids do their creating. It was that simple.
My Opinion
Other than the initial gathering of the supplies, this curriculum was like receiving an entire art program in a box. It is simple, concise, enriching, and fun. My kids really enjoyed the lessons they completed, and were excited to use some new mediums like watercolor crayons and ebony pencils.
Their object to sketch in Lesson 3
They did have a little trouble coming up with their own ideas for their projects, so we just brainstormed. They are used to having their subject matter presented for them as part of the art lesson or unit we are studying, so coming up with their own ideas was a new concept for them.
Since the end result of the projects was pretty open-ended, I had a little trouble (as a Type-A mom) keeping from telling them how to do things to make their projects "better". We are just used to doing projects that are intended to end up looking a certain way, so these projects were a real stretch for us ... which was a good thing!
Brynne - Age 7
Eli - Age 9
I do think that the curriculum was a little more of a serious art program than what we are used to doing, which again is a good thing.
Overall I enjoyed the curriculum from a teaching perspective because it was simple in it's instructions and allowed my children to use what they learned in the lesson to build on their creativity.
Product Details
ARTistic Pursuits Early Elementary K-3 Book 1: Introduction to the Visual Arts
can be purchased at the
ARTistic Pursuits website
for $47.95.
They also have other volumes for K-3, as well as volumes for the age group of 3, 4 and 5, Grades 4-5, 6-8, and 9-12. As you can see, there is something for everyone.
********************
All of these products were reviewed by various members of the Schoolhouse Review Crew. To read those reviews, go to the
Schoolhouse Review Crew blog
.

********************