With my two kiddos starting multiplication this year, we have dabbled in many different math curriculums looking for the perfect match. We've used our tried-and-true math facts, a systematic approach, and an online program. And then we were given the opportunity to review the hands-on approach of
Math-U-See
. I had wanted to try Math-U-See products for some time, and now I
SEE
what we have been missing! For one of my kids, especially, this program is a great fit!
As Math-U-See is not set up as a grade-level program, I did not know which level I should request. After taking the
free placement test
, I determined that both of my children (ages 9 and 7, both doing primarily third grade work) would benefit most from the
Gamma
level.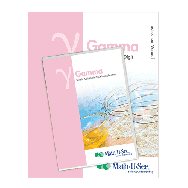 The primary concepts covered in the Gamma level are single- and double-digit multiplication including (from the website):
Using strategies based on place value and properties of operations to multiply
Fluently multiplying any combination of whole numbers
Solving for an unknown factor
Solving abstract and real-world problems involving addition, subtraction, and multiplication
Measuring and computing area
Relating concepts of area to addition and multiplication
To view a sample lesson from Math-U-See ~ Gamma, you can go to
THIS LINK
.
For the Math-U-See Gamma level, the
"Essential Products"
needed are the:
Instruction Pack (includes the Instruction Manual and Instruction DVD, both with lesson-by-lesson instructions and solutions) which sells for $44.00;
Student Pack (includes student worksheets and review pages, Application and Enrichments Pages, and tests) which sells for $30.00; and
Manipulative Block Set (can be used on all primary levels up to Algebra 1) which sells for $38.00.
As part of the review, we received all of the "Essential Products" listed above. Not only did we receive one manipulative block set, but the vendor graciously gave us TWO sets! This was a huge blessing for us since we have two children and they could do their assignments at the same time without having to share the one set of blocks. I tell you this as a way to recommend that if you have more than one child using Math U See, that you should get a Manipulative Block Set for each child.


How We Used the Product:
On the first day of the new lesson, we watched the video for instruction. After the video instruction, I briefly covered the material in the Instruction Manual and then had the kids get started on their lessons. We did one, sometimes two, lessons per day. In the Gamma level there are 6 Lesson Practices and 1 Application and Enrichment assignment (that is set out in more of a word problem format). The lessons were easy enough, and the instructions clear enough, that they were able to easily understand how to work the problems and were able to work independently.


They loved the blocks! Actually SEEING the problem worked out made it make so much more sense to them, especially in dealing with multiplication. Sometimes, however, they were having so much fun building the problems with their blocks that they asked to just build with the blocks for play at lunch time.

At the conclusion of each set of lessons, there is a chapter test.
My Opinion:
I actually love this program. So far it has been pretty easy, but with multiplication I think starting out easy is the way to go. We are supplementing with practicing multiplication facts every day, just to keep them constantly fresh.
I plan to use this Math-U-See Gamma curriculum through the end of the school year, and then start back up with it in the Fall. (This summer we will just continue to review multiplication facts.)
While we were previously using an online math program, my 7 year old kept saying that she wanted to go back to "paper math". My 9 year old, however, enjoyed the online program and works better with visualizations and a hands-on approach. Math-U-See caters to both of their learning strengths and preferences in the same program! On the problems that Brynne doesn't need the manipulatives, she just skips using them and works the problems out on paper. But, when she is stuck on something, the manipulatives are there to help. Eli uses the manipulatives with every problem, even if he can work it out in his head. Seeing the problem worked out in front of him helps to drive it home in his mind.
The kids say, "This math is fun!" I think it's wonderful! And, the price is right!
To see what other Crew Members thought of the Math-U-See products, including the Gamma level, go to the
Schoolhouse Review Crew blog
.

********************