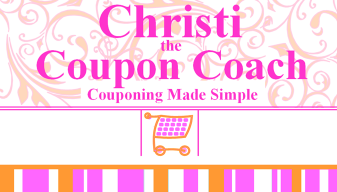 Extreme couponing. Aren't you just amazed with what those folks can do? ... Me? If I actually take the time to clip a coupon, you can almost bet I forget I have it when I am at the checkout. I go through phases when I think I am going to give couponing a shot, and then I fail miserably so give it up .. again. The Molly Review Crew through the The Old Schoolhouse was given the opportunity to review
Couponing Made Simple
by
Christi the Coupon Coach
. I was hoping that I might learn a few new things to finally making my couponing attempts a success.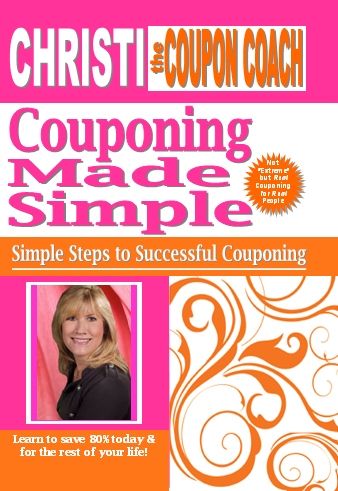 Couponing Made Simple
is a full how-to and
why
book about how to be successful at using coupons, written by Christi Bassford. The book is a very easy and informative read. It is a 123 page paperback book that I, literally, absorbed in a couple of hours. The great thing about Christi's approach is that it is couponing for real people! It's not a book on how to get hundreds of dollars of products for twelve cents (although I believe you probably could with her methods). It's more about how a real woman wanting to save money for her family accomplishes it with the use of coupons. The chapters contained in the book are:
Success Stories (reading about success stories was a good way to start!)
A New Way to Shop (don't buy what you need, build you eating based on what's on sale)
The Language of Couponing (what do all those abbreviations and terms mean?)
Organization System (the physical products you will need to stay organized)
Step-by-Step Process (the exact how-to)
Tips and Tools (extra things to think about)
Couponing Ethics (do things honestly, okay?)
Networking and Communicating (others out there are doing a lot of the hard work for you ... find out who they are and then share the information you find for others)
Bonus Section (other ways to save money)
Beyond Couponing (you'll just want to read that chapter and find out for yourself ... it's THAT good!)
Many of the things I read in Christi's book were things I used to diligently put to work in my life when we were very low on finances. And, many of those things worked! We saved TONS of money! I can remember going to the grocery store one time with my husband (to Walmart) and a friend of ours had a shopping cart full in front of us and spent $350. We had a cart that was more full than her's, and our total was $107. My husband was astonished! I used applicable coupons, only bought what was on sale (and built our menus around those sale items), and did lots of ad matching from other stores. This was about 10 years ago.
Times are different. Grocery stores don't have the sales they used to have. Inflation is ridiculous. The deals are harder to find. It takes more work. So, I don't do it.
I decided to put Christi's tips to work during the review period and see if I could actually save some money. But, unfortunately I found that the system, as good as it is, just does not work for our family at this time in our lives. And here are some of the reasons why:
We do not eat a lot of name brand food items and eat very little processed food anymore, so the usual coupons are not for things that we would buy as a family.
I do the majority of my shopping at Aldi. It's just that much cheaper and I actually prefer many of their brands, especially as I cook from scratch. They do not carry many name brand items and they do not accept coupons.
I am someone who does not like change. We use the same toothpaste, deodorant, laundry detergent, peanut butter, crackers, cleaning products, and more, that we have used for several years and we don't want to change what we use. I am not willing to change the majority of the brands I use, even if I can get them for free.
We do not have a major newspaper delivered to our town with coupon inserts, so I have to actually drive out of town (and spend gas money) to get such inserts.
We do not have local drugstores with the amazing deals, like Walgreens and CVS. I have to drive at least 20 miles to get to one of these stores. And it's just not worth it to me.
Physically clipping coupons from a newspaper and/or scouring the internet for couponing sites takes a lot of time that I, unfortunately, just do not have.
The last time I was going to go to the store I decided to search couponing sites before I made our weekly menu and grocery list. Through all of the sites I found, I only found coupons for six items I wanted to buy. Then I realized that all but two of them I could buy cheaper at Aldi in their brand. And since I knew I would not remember the other two coupons when it was time for checking out, I didn't even add those brands to our list. It just didn't work, and I had spent about an hour trying to find coupons.
Even though actual couponing is something I am just going to have to give up on, there were other great tips in the book that I actually do use and will continue to use:
Watch store coupons! Our little mom and pop grocery store in our little town (of less than 3000 people) actually has some good sales on some items, like cereal. I have purchased some half price cereal to then get a coupon printed out at the register when I checked out that made me turn right around and go back and buy four more boxes which then got me another coupon printed off at the register on that transaction that I put in my purse and used the next day on another five boxes of cereal. I was getting name brand cereal for about $1.10 to $1.25 a box. These types of deals pop up pretty often.
Our local grocery store also has a service where they will send out a text with their daily/weekly deals. And, they are GOOD! I take advantage of those, too.
Finally, at our local grocery store, it is so small that I run through the meat, produce and dairy department (all on the outside of the store, so I go in a circle) to look at clearanced items. I get lots of good stuff really cheap. Then I build our meals around those marked down items. I also freeze a lot of them for later use.
Yard sales are not only FUN, but you can find some great deals! Each season I make a list of things I would like to purchase for our house and then hit the neighborhood garage sales. I am often able to mark most things off my list at a fraction of the cost. Right now I am looking for a large butcher block and a coat tree. If you find one at a yard sale, let me know, k? And, she gave a fun idea of taking all her kids to garage sales so they can purchase Christmas gifts for each other. Now THAT sounds like a great idea! We are going to do that one!
Am I disappointed with Christi the Coupon Coach's book,
Couponing Made Simple
? No! It contains a wealth of information, especially if you are new to couponing. In the right circumstances, I know that her methods would work for our family. In fact, I would bet other Molly Crew members had success using Christi's methods, so you should read their reviews at the
Schoolhouse Review Crew blog
.

I took many things from Christi's book, and plan to hold onto it for future reference. Should our circumstances change or the structure of our economy change, these are tips that I will be able to use to help strengthen our family's financial outlook.
Couponing Made Simple
can be purchased in paperback for $18.00 and in the Kindle edition for $4.99 from the
Christi the Coupon Coach
website.
************************