Global Art
by MaryAnn F. Kohl and Jean Potter is a wonderful paperback book published by
Gryphon House
that we have been reviewing for the past several weeks. I love everything we have ever read or used by MaryAnn F. Kohl, and this book was no exception. It fit perfectly into our regular way of doing our studies.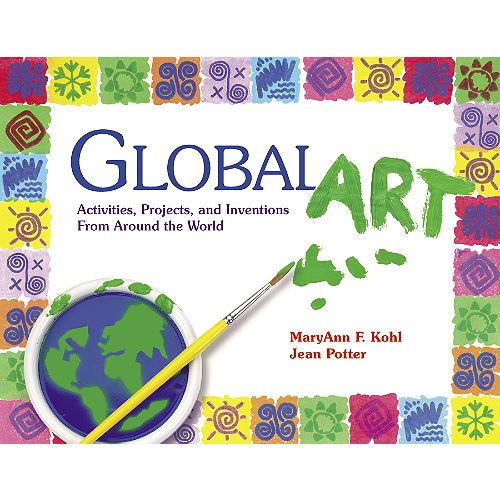 Global Art contains 169 pages of activities, projects, and inventions from around the world that your child can do to enhance his or her regular studies. It is an activity book filled with over 130 art ideas from around the world. Some are based on customs, some on celebrations, others on discoveries or inventions and still others on native materials used in open artistic expression. Global Art combines the fun and creativity of art with the mysteries of history, the lure of geography and the diversity of the cultures of the world. ~
from the book.
The art projects use techniques such as painting, sculpture, construction, drawing, collage, and printing. There are three levels of preparation (1, 2 or 3) ranked by proposed ease of availability of materials. Most materials are those readily available at home or easily purchased. And there are projects for three levels of experience:
One star for the beginning artist with little experience
Two stars for artists with some art experience
Three stars for the more experienced artist
There are projects from each of the continents and the chapters are divided by continent. Within each chapter are the projects for several countries on that continent, with all levels of preparation and experience. The index is also set up by country, so relevant projects are easy to find.
Each project lists the appropriate levels, materials needed, and a step-by-step process. Additionally, there is a "Did you know?" paragraph that gives an interesting geographical fact that relates to that particular art project.
There is such a wide variety of art projects available in Global Art. We enjoyed it very much. It will be so nice to have this book available to us as we do our studies throughout the next several years. I always try to incorporate some kind of hands-on project or activity with each unit we study. As we study particular countries in the future, I will be able to pull out this book and easily find an art project to use. It's wonderful and so easy to use!
As we are on summer school and have not been doing any geographical studies, I just asked the kids to each choose a country they wanted to learn a little bit about. Eli chose England and Brynne chose Italy.
For England we made Thaumatropes. The kids first made faces in frames. When they were done and they saw how cool they were when they spun them, Brynne decided to make a puppy in a doghouse.
For Italy we made Ironed Crayon Mosaics. I think I ironed the crayons out a little thin, because they were a little difficult to use when broke apart and the colors were all pretty much melted into one color. Eli made a pirate ship and Brynne made a volcano. They were definitely abstract art, but they were very cool to make and the project was something we had never done before.
I highly recommend this book. It can be purchased for $16.95 from the
Gryphon House
website. The book is recommended for Grades K-5, however even adults will enjoy the projects.
You can read other reviews of
Global Art
at the
Schoolhouse Review Crew blog
. Other crew members also reviewed the book
Homegrown Preschooler
, if you would like to read reviews on that product.

******************************************