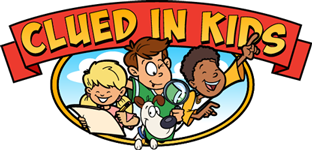 My kids have always been big fans of scavenger hunts. And they
are
fun! But the work that goes into them, coming up with clever and age-appropriate clues, is just too much work!
Clued in Kids
has come up with a solution to that problem. We were asked to review the
Halloween Treasure Hunt
(pdf printable) and
Princess Clue Pad
(physical treasure hunt) from Clued in Kids. The great thing about reviewing this product is that it required absolutely no work on my part. All I had to do was tear out the clues, put them where I was told to put them, put a prize at the end, and send my kids off on their hunt.
The company motto of Clued in Kids is "Treasure the Journey". This definitely fits in with our homeschooling philosophy that we are on a Journey to Excellence. And what better way to travel the journey than to have fun, to enjoy it, to
treasure
it!
The creator of Clued in Kids followed a childhood dream of professionally creating treasure hunts for children. It was after her and her daughter underwent some dramatic nutritional changes due to autoimmune diseases that her passion for treasure hunts was combined with her desire to educate children. She knows from experience that educated children are empowered children.
Most of the treasure hunts are for fun. There are party/playdate hunts, seasonal hunts, sports hunts, and even greeting card hunts (what a fun idea!). Additionally Clued in Kids has two nutrition hunts: Gluten Free and Happy Tummy. Very cool idea.
All of the treasure hunts are in a pdf printable format with the exception of the following which are physical products called a Clue Pad:
Christmas Treasure Hunt in a Greeting Card
Playdate
Pirate
Princess
Slumber Party
There are season/holiday treasure hunts for just about every holiday you can imagine, both Christian and secular. We received the Halloween Treasure Hunt in the pdf printable format. The cost of this treasure hunt is $5.99 and contains everything you need to have the hunt, except for the treat at the end. Some good ideas on this hunt might be a new trick-or-treating bag, some glow necklaces or bracelets, or a flashlight. It took about 10 minutes to print off all of the clues and distribute them in the appropriate places. My two children did the hunt together, but you could have up to 10 children join in on the fun. The hunt takes about 30-60 minutes depending on how well your children interpret the clues and how many children are involved. This would be lots of fun to do at a Halloween party!
We also received the Princess Clue Pad in a physical format. I chose this one because I knew our little diva Macie would love it! The cost of the Princess hunt is $8.99 and, again, contains everything you need to do the hunt except for the end treasure. A good idea might be some fun stickers, some party jewelry, or a crown! This hunt took less time to set up because it did not require printing off the clues. I just distributed the clues in the appropriate places and Brynne and Macie were off. Eli opted out of the princess hunt. With Brynne helping Macie it only took about 25 minutes to get through the hunt. This would definitely be a fun activity at a Princess birthday party!


I wish that I had age-appropriate nieces and/or nephews to whom I could send the Christmas Treasure Hunt in a Greeting Card. How fun would that be to receive as a kid? I might have to purchase a few of them for my two year old nieces to receive when they get a little older. Do your kids' friends get bored quickly when they come over to play? How about the Playdate Clue Pad. That would be something nice to have in the cabinet on a rainy day.
If you would like a Free Treasure Hunt, you can go to
Clued in Kids
and provide your e-mail address to receive it. It is called Homework Reward Treasure Hunt. That is one for us moms to keep handy, huh? Try this out and see just why you will want to order more Clued in Kids hunts!
All of the hunts are appropriate for a variety of age ranges. Some can be completed by children as young as 4 but others will need adults or older children to help coordinate. I would advise that you look at the clues to determine how much help your children might need.
Many of the treasure hunts were reviewed by other
Schoolhouse Review Crew
members. You can go to the blog to read those reviews.